Ad blocker interference detected!
Wikia is a free-to-use site that makes money from advertising. We have a modified experience for viewers using ad blockers

Wikia is not accessible if you've made further modifications. Remove the custom ad blocker rule(s) and the page will load as expected.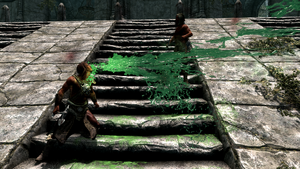 The
Afflicted
are humanoid races who have been gifted abilities or "afflicted" by the
Daedric Prince
,
Peryite
, in
Skyrim
. Afflicted have the ability to vomit a green substance that is extremely acidic. It appears that Peryite "afflicted" them so that they could "cleanse all of Tamriel" by spreading this affliction. They can be found in the
dwemer
ruins of
Bthardamz
, due west of
Dragontooth Crater
.
After completing Peryite's quest, a group of Afflicted may hunt the Dragonborn (under the name "Remnants of Afflicted") similar to how a Hired Thug would be paid to do so if the Dragonborn had severely angered or wronged a character.
Vile Vapors
Edit
The Afflicted sometimes use an attack called Vile Vapors which inflicts the effect Poison Spray. The description reads "+20 Poison Spray 2 secs" and it has a duration of 5 seconds.
Afflicted Archer
Edit
| Name | Level | | | Stamina | Weapon | Armor | Items | Shouts |
| --- | --- | --- | --- | --- | --- | --- | --- | --- |
| Afflicted | 1 | 30 | 25 | 70 | Bow, Arrows | Clothes, Gloves, Hat, Boots | Lockpick, Gold | Vile Vapor |
| Afflicted | 5 | 74 | 25 | 86 | Bow, Arrows, Iron Dagger | Clothes, Gloves, Hat, Boots | Lockpick, Gold | Vile Vapor |
| Afflicted | 9 | 118 | 25 | 102 | Bow, Arrows, Steel Dagger | Clothes, Gloves, Hat, Boots | Lockpick, Gold | Vile Vapor |
| Afflicted | 14 | 173 | 25 | 122 | Bow, Arrows, Steel Dagger | Clothes, Gloves, Hat, Boots | Lockpick, Gold | Vile Vapor |
| Afflicted | 19 | 228 | 25 | 142 | Bow, Arrows, Steel Dagger | Clothes, Gloves, Hat, Boots | Lockpick, Gold | Vile Vapor |
| Afflicted | 24 | 283 | 25 | 162 | Bow, Arrows, Steel Dagger | Clothes, Gloves, Hat, Boots | Lockpick, Gold | Vile Vapor |
Afflicted Guardian
Edit
| Name | Level | | | Stamina | Weapon | Armor | Items | Shouts |
| --- | --- | --- | --- | --- | --- | --- | --- | --- |
| Afflicted | 1 | 30 | 25 | 70 | 1H Weapon | (Heavy Cuirass / Light Cuirass / Clothes), Heavy Gauntlets, Heavy Boots, Heavy Helmet, Heavy Shield | Lockpick, Gold | Vile Vapor |
| Afflicted | 5 | 94 | 25 | 86 | 1H Weapon | (Heavy Cuirass / Light Cuirass / Clothes), Heavy Gauntlets, Heavy Boots, Heavy Helmet, Heavy Shield | Lockpick, Gold | Vile Vapor |
| Afflicted | 9 | 118 | 25 | 102 | 1H Weapon | (Heavy Cuirass / Light Cuirass / Clothes), Heavy Gauntlets, Heavy Boots, Heavy Helmet, Heavy Shield | Lockpick, Gold | Vile Vapor |
| Afflicted | 14 | 173 | 25 | 122 | 1H Weapon | (Heavy Cuirass / Light Cuirass / Clothes), Heavy Gauntlets, Heavy Boots, Heavy Helmet, Heavy Shield | Lockpick, Gold | Vile Vapor |
| Afflicted | 19 | 228 | 25 | 142 | 1H Weapon | (Heavy Cuirass / Light Cuirass / Clothes), Heavy Gauntlets, Heavy Boots, Heavy Helmet, Heavy Shield | Lockpick, Gold | Vile Vapor |
| Afflicted | 24 | 283 | 25 | 162 | 1H Weapon | (Heavy Cuirass / Light Cuirass / Clothes), Heavy Gauntlets, Heavy Boots, Heavy Helmet, Heavy Shield | Lockpick, Gold | Vile Vapor |
Afflicted Mage
Edit
| Name | Level | | | Stamina | Weapon | Armor | Items | Spells |
| --- | --- | --- | --- | --- | --- | --- | --- | --- |
| Afflicted | 1 | 30 | 100 | 70 | Iron Dagger | Mage Robes, Boots | Lockpick, Gold | (Frostbite / Flames / Sparks), Healing, Oakflesh, Lesser Ward, Vile Vapor(Shout) |
| Afflicted | 5 | 66 | 124 | 70 | Iron Dagger | Mage Robes, Boots | Lockpick, Gold | (Frostbite / Flames / Sparks), Healing, Oakflesh, Lesser Ward, Vile Vapor(Shout) |
| Afflicted | 9 | 102 | 123 | 70 | Steel Dagger | Mage Robes, Boots | Lockpick, Gold | (Ice Spike / Firebolt / Lightning Bolt), Fast Healing, Stoneflesh, Steadfast Ward, Vile Vapor(Shout) |
| Afflicted | 14 | 147 | 153 | 70 | Dwarven Dagger, Iron Dagger | Mage Robes, Boots | Lockpick, Gold | (Ice Spike / Firebolt / Lightning Bolt), Fast Healing, Stoneflesh, Steadfast Ward, Vile Vapor(Shout) |
| Afflicted | 19 | 192 | 183 | 70 | Dwarven Dagger, Iron Dagger | Mage Robes, Boots | Lockpick, Gold | (Ice Spike / Firebolt / Lightning Bolt), Fast Healing, Stoneflesh, Steadfast Ward, Vile Vapor(Shout) |
Afflicted Warrior
Edit
| Name | Level | | | Stamina | Weapon | Armor | Items | Shouts |
| --- | --- | --- | --- | --- | --- | --- | --- | --- |
| Afflicted | 1 | 30 | 25 | 70 | 1H Weapon | (Light Cuirass / Heavy Cuirass / Clothes), Light Boots, Light Gauntlets, (Light Helmet), (Light Shield) | Lockpick, Gold | Vile Vapor |
| Afflicted | 5 | 94 | 25 | 86 | 1H Weapon | (Light Cuirass / Heavy Cuirass / Clothes), Light Boots, Light Gauntlets, (Light Helmet), (Light Shield) | Lockpick, Gold | Vile Vapor |
| Afflicted | 9 | 118 | 25 | 102 | 1H Weapon | (Light Cuirass / Heavy Cuirass / Clothes), Light Boots, Light Gauntlets, (Light Helmet), (Light Shield) | Lockpick, Gold | Vile Vapor |
| Afflicted | 14 | 173 | 25 | 122 | 1H Weapon | (Light Cuirass / Heavy Cuirass / Clothes), Light Boots, Light Gauntlets, (Light Helmet), (Light Shield) | Lockpick, Gold | Vile Vapor |
| Afflicted | 19 | 228 | 25 | 142 | 1H Weapon, Orcish Dagger | (Light Cuirass / Heavy Cuirass / Clothes), Light Boots, Light Gauntlets, (Light Helmet), (Light Shield) | Lockpick, Gold | Vile Vapor |
| Afflicted | 24 | 283 | 25 | 162 | 1H Weapon, Orcish Dagger | (Light Cuirass / Heavy Cuirass / Clothes), Light Boots, Light Gauntlets, (Light Helmet), (Light Shield) | Lockpick, Gold | Vile Vapor |
Related quests
Edit
Appearances
Edit