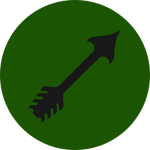 For other uses, see Agility.

"Agility outmaneuvers its foes with nimbleness and speed. It can move creatures between lanes and into cover, prey upon wounded enemies, and make extra attacks. Agility also uses curses and poison to kill creatures with a single hit, and some of its creatures benefit from direct attacks on your opponent."
―Game Terms
Agility is one of the five available attributes in The Elder Scrolls: Legends.
Agility creatures prefer to avoid fair fights, using poison and precision to take down larger foes or cover and movement abilities to sneak past them entirely.[1]
This list is incomplete; help us expand it.
Title
Cost
Attack
Health
Type
Subtype
Rarity
Unique?
Text
An-Xileel Invader
4
5
3
Creature
Argonian
Common
No
Arenthia Swindler
3
2
2
Creature
Khajiit
Epic
No
Summon: Steal all items from an enemy creature.
Arrow in the Knee
1
1
Action
Common
No
Shackle a creature and deal 1 damage to it.
Baandari Bruiser
3
3
2
Creature
Khajiit
Common
No
Pilfer: +3/+0
Blacksap Protector
3
3
3
Creature
Wood Elf
Rare
No
Prophecy, Guard
Brotherhood Assassin
1
3
3
Creature
Dark Elf
Epic
No
Lethal
Summon: Draw a card.
Camoran Scout Leader
5
2
2
Creature
Wood Elf
Epic
No
Summon: Summon a 2/2 Wood Elf Scout

in each lane with a wounded enemy creature.
Cavern Spinner
2
1
1
Creature
Spider
Common
No
Summon: Shackle a random enemy creature.
Chaurus Breeding Pit
10
Action
Epic
No
Summon a Chaurus Reaper

in each lane.
Chaurus Reaper
7
5
4
Creature
Chaurus
No
Summon: Give all enemy creatures in this lane -1/-1.
Cliff Racer
5
4
4
Creature
Animal
Rare
No
Charge
Curse
0
Action
Common
No
Give a creature -1/-1.
Daring Cutpurse
2
2
2
Creature
Khajiit
Common
No
Prophecy
Pilfer: +1/+1
Deshaan Avenger
4
3
3
Creature
Dark Elf
Rare
No
Last Gasp: Summon a 3/3 Deshaan Sneak

.
Deshaan Sneak
4
3
3
Creature
Dark Elf
Rare (Novice)
No
Dune Rogue
2
3
1
Creature
Khajiit
Rare (Novice)
No
Prophecy
Dune Smuggler
3
3
1
Creature
Khajiit
Rare
No
Summon: Move another friendly creature in this lane.
When a friendly creature moves, give it +1/+1.
Dune Stalker
2
3
1
Creature
Khajiit
Rare
No
Prophecy
Summon: Move another friendly creature in this lane.
Durzog
3
4
4
Creature
Reptile
Rare
No
Elixir of Light Feet
2
Support
Uses: 3
Rare
No
Activate: Give a creature Cover.
Feasting Vulture
3
3
2
Creature
Animal
Rare
No
Summon: +2/+2 if a creature died this turn.
Fighters Guild Recruit
2
1
2
Creature
Argonian
Common
No
Prophecy, Guard, Lethal
Finish Off
2
Action
Common
No
Destroy a wounded enemy creature.
Giant Snake
5
3
3
Creature
Animal
Epic
No
Summon: Shackle all enemy creatures in this lane.
Goblin Skulk
2
2
2
Creature
Goblin
Rare
No
Pilfer: Draw a random card from your deck that costs 0.
Green Pact Stalker
4
3
4
Creature
Wood Elf
Rare
No
Guard
Summon: +2/+2 if there is a wounded enemy creature in this lane.
Green-Touched Spriggan
4
1
6
Creature
Spriggan
Epic
No
When you gain health, Green-Touched Spriggan gains that much power.
Greenheart Knight
3
1
5
Creature
Wood Elf
Common
No
Charge
Guild Recruit
2
1
2
Creature
Argonian
Common (Novice)
No
Lethal
Helstrom Footpad
2
3
2
Creature
Argonian
Common
No
Hidden Trail
4
Support
Ongoing
Epic
No
All lanes become Shadow lanes. Friendly creatures have +1/+0.
Highland Lurcher
6
7
5
Creature
Lurcher
Common
No
House Kinsman
3
3
3
Creature
Dark Elf
Epic
No
Last Gasp: Deal 3 damage to your opponent and gain 3 health.
Leaflurker
5
4
3
Creature
Wood Elf
Epic
No
Summon: Destroy a wounded enemy creature.
Leafwater Blessing
2
Action
Epic
No
Give a creature +1/+1. When you gain health draw Leafwater Blessing from your discard pile.
Malefic Wreath
3
Action
Rare
No
Give a creature -2/-2.
Moonlight Werebat
4
4
2
Creature
Beast
Epic
No
Prophecy, Drain
Mournhold Guardian
1
2
1
Creature
Dunmer
Common
No
Guard
Mournhold Traitor
2
4
4
Creature
Dunmer
Epic
No
Last Gasp: Your opponent summons a 2/1 Mournhold Guardian

with Guard.
Murkwater Butcher
3
3
2
Creature
Goblin
Common
No
If Murkwater Butcher is in your hand during your first turn, reduce his cost to 1.
Murkwater Goblin
0
0
1
Creature
Goblin
Common
No
Murkwater Goblin has +2/+0 on your turn.
Murkwater Savage
2
2
2
Creature
Goblin
Rare
No
Whenever you summon another creature, Murkwater Savage gains +1/+1.
Murkwater Shaman
4
3
3
Creature
Goblin
Epic
No
At the start of your turn, draw a Curse

.
Murkwater Skirmisher
4
4
4
Creature
Goblin
Epic
No
Summon: Give all friendly Goblins +2/+2.
Murkwater Witch
2
1
1
Creature
Goblin
Rare
No
Guard
Summon: Give an enemy creature -1/-1.
Necrom Mastermind
5
5
4
Creature
Dark Elf
Legendary
No
Summon: Trigger the Last Gasp of each friendly creature.
Nest of Vipers
10
Action
Legendary
No
Fill a lane with Territorial Vipers

.
Nimble Ally
3
3
3
Creature
Wood Elf
Common
No
Summon: +1/+1 and Lethal if the top card of your deck is .
Pahmar-raht Renegade
5
4
6
Creature
Khajiit
Epic
No
When Pahmar-raht Renegade attacks and destroys a creature, draw a card.
Quin'rawl Burglar
6
4
4
Creature
Khajiit
Legendary
No
Drain
Pilfer: +4/+4
Quin'rawl Skulker
6
4
4
Creature
Khajiit
Legendary (Novice)
No
Pilfer: +4/+4
Pahmar-raht Renegade
5
4
6
Creature
Khajiit
Epic
No
Slay: Draw a card.
Poisonous Spider
2
1
1
Creature
Spider
Common
No
Lethal
Protective Spider
2
1
1
Creature
Spider
Common
No
Guard
Ransack
6
Action
Rare
No
Prophecy
Deal 3 damage and gain 3 health.
Shadow Shift
1
Action
Common
No
Move a friendly creature. Draw a card.
Skooma Racketeer
3
2
2
Creature
Khajiit
Common
No
Summon: Give a creature Lethal.
Smuggler's Haul
6
Action
Epic
No
Draw four random 0-cost cards.
Snake Tooth Necklace
2
1
1
Item
Rare
No
+1/+1, Drain
Snow Fox
3
2
3
Creature
Animal
Common
No
Snowy Sabre Cat
5
3
7
Creature
Animal
Epic
No
Can attack an additional time on each turn.
Soulrest Marshal
5
4
4
Creature
Argonian
Rare
No
Summon: If you have more health than your opponent, the next creature you summon this turn costs 6 less.
Spider Daedra
8
4
2
Creature
Daedra
Legendary
No
Summon: Fill your lanes with 2/1 Spiderlings

.
Last Gasp: Destroy all friendly Spiderlings.
Spider Lair
7
Support
Ongoing
Epic
No
At the start of your turn, summon a random Spider.
Spiderling
2
2
1
Creature
Daedra
Common
No
Swift Strike
3
Action
Rare
No
Give a creature an extra attack this turn.
Tazkad the Packmaster
9
6
6
Creature
Goblin
Legendary
Yes
Breakthrough, Charge
Last Gasp: Summon a 4/4 Durzog

.
Tenmar Swiftclaw
4
2
2
Creature
Khajiit
Epic
No
Pilfer: +1/+1
Can attack an additional time each turn.
Territorial Viper
4
1
1
Creature
Animal
Rare
No
Charge, Lethal
Thievery
3
Action
Common
No
Deal 3 damage to your opponent and gain 3 health.
Thieves Guild Recruit
2
1
2
Creature
Argonian
Common
No
Summon: Draw a card. If it costs 7 or more, reduce its cost by 2.
Thieves' Den
4
Support
Ongoing
Legendary
No
Friendly creatures have Pilfer: +1/+1.
Torval Crook
4
1
4
Creature
Khajiit
Epic
No
Charge
Pilfer: Gain 2 magicka.
Twilight Werebat
4
4
2
Creature
Wood Elf
Epic (Novice)
No
Prophecy
Ungolim, the Listener
1
1
1
Creature
Wood Elf
Legendary
Yes
Summon: Shuffle three Brotherhood Assassins

into your deck.
Varanis Courier
3
1
3
Creature
Dark Elf
Common
No
Guard
Last Gasp: Draw a card.
Voracious Spriggan
1
2
1
Creature
Spriggan
Rare
No
Drain
Wild Beastcaller
6
3
4
Creature
Spriggan
Epic
No
Summon: Summon a random Animal.
Wild Spriggan
6
3
4
Creature
Spriggan
Epic (Novice)
No
Summon: Summon a 2/3 Snow Fox

.
Wood Elf Scout
3
2
2
Creature
Wood Elf
Common
No
Charge
Appearances
Edit
References