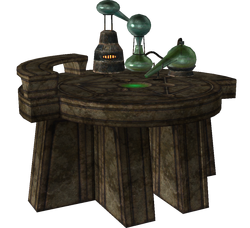 For other uses, see Alchemy Lab.
"Alchemy labs can be used to combine ingredients into useful potions and deadly poisons."
An Alchemy lab is where the player practices Alchemy in The Elder Scrolls V: Skyrim. In the alchemy lab, the player can create potions and poisons, and test the effects of ingredients. The Dragonborn is prompted with the choice of adding two ingredients, and an optional third ingredient for the desired effects. While testing and creating potions, the player learns potion recipes, which allow the player to select the recipe and create the potion without having to mix those two or three ingredients again, though the ingredients required initially are still consumed.
Locations
Edit
When adding a location please use the following format. For Towns/Cities (Town or City – Location – Description)
For Wilderness (Location – Description)
Towns/Cities
Edit
Wilderness
Edit
The Lab can be crafted for a homestead as part of The Elder Scrolls V: Hearthfire. It requires the following components:
Appearances
Edit
Ad blocker interference detected!
Wikia is a free-to-use site that makes money from advertising. We have a modified experience for viewers using ad blockers

Wikia is not accessible if you've made further modifications. Remove the custom ad blocker rule(s) and the page will load as expected.