Ald Velothi is a small town found in The Elder Scrolls III: Morrowind.
Description
Edit
Ald Velothi is a Redoran fishing town located north of Gnisis, and is perhaps the smallest of all the Redoran settlements. It serves as little more than a stop-off point for those who wish to travel north to Daedric shrines and their surrounding areas. The town is involved in several quests, including seven for House Redoran. It also seems to be the location from which the Twin Lamps abolitionist group operates from.
Although Ald Velothi does have a ship, the Fair Helas, it cannot be used as transport. Instead, the main way of traveling to Ald Velothi is through Khuul, a town on the Silt Strider routes.
Locations
Edit
Main article: Ald Velothi Locations
Notable locations near Ald Velothi include:
Characters
Edit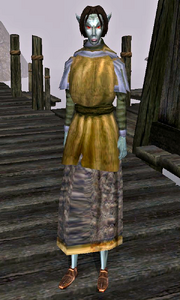 Creatures
Edit
Click to show
Miscellaneous
Edit
Appearances
Edit
Ad blocker interference detected!
Wikia is a free-to-use site that makes money from advertising. We have a modified experience for viewers using ad blockers

Wikia is not accessible if you've made further modifications. Remove the custom ad blocker rule(s) and the page will load as expected.