Altmer (Online)
Talk

0
19,069pages on
this wiki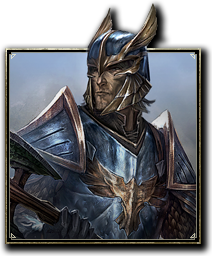 The
Altmer
, or
High Elves
, are a playable race in the 
The Elder Scrolls Online
. They are part of the
Aldmeri Dominion
, along with the
Bosmer
and
Khajiit
.
[1]
Official description
Edit
The High Elves, or Altmer, arrived in Tamriel thousands of years ago from Old Aldmeris. They see themselves, perhaps justifiably, as the ruling race of Tamriel. They are a highly cultured people, known for their breathtaking architecture and massive libraries of histories and creative works. They tend to be isolationists, largely remaining on Summerset Isle, and only emerge when they perceive a great threat to their homeland. They are powerful mages and warriors, and the de facto leaders of the Aldmeri Dominion.
Royal family

Edit
The Altmer consider themselves to be descended in an unbroken line from the Divines who created Nirn, but none more so than the royal family of Alinor. The King or Queen of Alinor rules over the Summerset Isles, basing their decisions on the precedents laid down in the Scrolls of Praxis; a tradition known as Ceremoniarchy. For a requisite 3,555 days, members of the royal family study Altmeri Regal Praxis and Ceremoniarchy at the Sapiarchs' Labyrinth. When the King or Queen ascends to Aetherius, an heir must speak an eighty-eight day Coronation Liturgy that will elevate them to the Throne of Alinor. It is the right of the eldest heir to assume the throne, as affirmed by the High Justiciar.[2]
Appearances
Edit
References
Edit
↑ http://www.gameinformer.com/games/the_elder_scrolls_online/b/pc/archive/2012/05/16/elder-scrolls-online-faction-profile-aldmeri-dominion.aspx
↑ December 21, 2012. The Elder Scrolls Online The Stories of Tamriel: Ayrenn: The Unforseen Queen