Alvor
Talk

14
25,102pages on
this wiki
Alvor is a Nord blacksmith living in the village of Riverwood.
Background
Edit
Alvor is married to Sigrid, whom he has a young daughter with, named Dorthe. He is also the uncle of Hadvar, who is an Imperial soldier. He owns a respectable house in the town. His daughter typically stays indoors or can be found hanging around her father's forge or playing with Frodnar. If Dorthe is attacked, both parents become hostile to defend her. If a dragon attacks Riverwood, he will attempt to engage it with a warhammer when it lands unless he's been injured. 
Alvor makes a decent living by working as the blacksmith of Riverwood and repairing the sawmill as well as making nails for it when needed, he also seems to sell weapons and armor, even some of Elven quality. Like other characters in Riverwood, he suggests that the Dragonborn should speak to the Jarl of Whiterun about the dragons' return.
Mercantilism
Edit
Alvor sells weapons, armor, Ingots, Leather Strips, and allows the Dragonborn to use his forge. Iron Ingot and steel ingots are found under his workbench and can be taken without punishment if the Dragonborn helps Alvor or escapes Helgen with Hadvar. If taken after helping Ralof, Alvor will likely send hired thugs after the Dragonborn.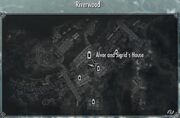 This section contains bugs related to Alvor. Before adding a bug to this list, consider the following:
Confirm all bugs with other editors on the talk page before adding them below.
Always try reloading an old save first, before asking for assistance.
Do not discuss possible bug fixes or origins. Leave those and all other first-person-anecdotes on the talk page, not the article.
Always add

 360 

 ,

 PS3 

 , and

 PC 

  to clarify which system the bug appears on.
Appearances
Edit
References
Edit