An Elder Scrolls Novel: The Infernal City
Talk

4
19,020pages on
this wiki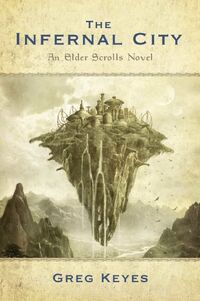 The Infernal City is a book set in The Elder Scrolls universe, that was released on November 24th, 2009. It is written by Gregory Keyes, and a sequel titled Lord of Souls has been written.
The Infernal City was published by Del Rey on November 24th, 2009
Plot summary
Edit
The events of the novel revolved around the story of Annaïg Hoïnart, a young Breton; Mere-Glim, her Argonian friend; Prince Attrebus, only son of the emperor Titus Mede; Colin, a Penitus Oculatus agent; and Ezhmaar Sul, a vengeful Dunmer and how their destinies tie into that of the dangerous and looming Umbriel, a floating city.
Critical reception
Edit