Ancient Dragon
Talk

10
19,072pages on
this wiki
The ancient dragons in Skyrim are one of the oldest and most resilient dragons the Dragonborn can encounter. They are typically encountered after reaching level 35, and become much more common around level 50. Furthermore, they are almost identical in appearance to Elder dragons, but instead of a golden-copper color, they have a pinkish-copper color.
Battle behavior
Edit
Ancient dragons use both fire breath and frost breath as part of their main arsenal and can deal significantly more damage compared to other dragons.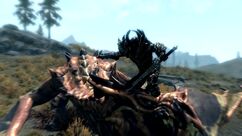 Sometimes a dragon may be encountered that is labeled an Ancient Dragon, but in reality is a frost dragon because it has massive spikes on its back and almost always uses Fo (frost) attacks. This may be due to the Dragonborn being at a low level.

 PC 

 

 360 

  There are texture loading problems where the ancient dragon (as any dragon) is not textured properly while fighting. Textures are loaded correctly after it has been killed. Another reported, possible solution is to quick-save and quick-load as soon as the problem is visible.
Sometimes when you kill an Ancient Dragon (or any type of dragon) you will not be able to absorb its soul. A possible fix is to change the difficulty and then change it back again.