Ancient Nord Weapons
Talk

1
19,086pages on
this wiki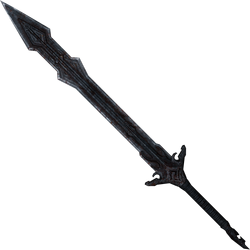 Ancient Nord Weapons
are the
weapons
that date back to the
Merethic
and
First Era
.
The were typically buried with their owners in Nordic tombs throughout Skyrim.
Ancient Nord weapons do not include a dagger, mace or warhammer.
Smithing
Ancient Nord Weapons cannot be created, but can be upgraded with a Steel Ingot.
Ancient Nord Weapons benefit from the Steel Smithing perk and the Honed variants benefit from the Dwarven Smithing perk, which doubles the improvement.
Only Ancient Nord Weapons can also be forged into Nord Hero Weapons at the Skyforge.
Attributes by weapon
See also
Appearances