Ansilvund Burial Chambers
Talk

2
19,056pages on
this wiki
| | |
| --- | --- |
| | It has been suggested that this article or section be merged with Ansilvund, because: sublocations don't have their own pages (Discuss) |

Ansilvund Burial Chambers is a Burial chamber accessed through Ansilvund.
Walkthrough
Edit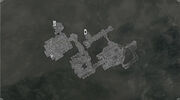 It is a simple but lengthy passage though many caverns; however there are a lot of traps and triggered events, so save often and keep your
potions
or
Restoration
magic
handy. There is some good loot in here as well.
Two alternatives ways have been suggested for the final burial chamber fight.
1) If you have a high one-handed proficiency with unlocked savage strike and decent sneaking, then run straight up to Lu'ah Al-Skaven and do a critical strike from behind. That should reduce her health to less than a quarter. Finish her off fast and if you're lucky, you'll activate an action sequence of decapitating her head.
2) If you have good Archery skill and a very good bow, go into sneak as you enter and shoot Lu'Ah. It is possible for this to be a one-shot. The two Draugr are also potential one-shot targets as well. However, if Lu'Ah is killed first, all of the adds including Holgier and Fjori will die instantly, as Lu'Ah was animating them.
Lu'Ah Al-Skaven, Fjori and Holgeir
Edit
The last fight can be tricky, especially on higher combat modes, and includes 2 hard hitting Draugr (Holgeir and Fjori), a Skeleton add, and the main boss Lu'Ah Al-Skaven in a huge burial tomb.
The easiest way to do it is by triggering the mobs right as you walk in and then run behind the wall on your left by the entrance. Wait a second or two and let the boss path back. Then go back through the opening and pull the first two Zombies- Holgeir and Fjori. Take them back behind the wall by the door on the left and kill them. They hit like trucks so concentrate on one or the other (I would recommend Fjori first as she has a nasty shout ability). After that fight, restore your health, magicka and stamina (and do a save).
For the boss and the skeleton add(what is this), run into the room and up the stairs on the right. You will find a door that needs to be lockpicked. Go to that door, pick it, open it and go in to the left. The skeleton should come in first, so kill it quick. Then Lu'Ah Al-Skaven should arrive. She is a frost mage extraordanaire using slows, shatters and all sorts of icy mayhem. Melee combatants will need to use a slowing potion or a paralysis potion on her as she moves very quickly and its tough to get her cornered. But once she is cornered, fire enchanted weapons work very quickly on her.
There are a number of chests, urns and shelves to be looted in both rooms after the battle. There is also a closing scene with Fjori and Holgeir who thank you for freeing them from Lu'Ah's spell and present a Ghostblade to you for your service.
A couple of things not to do. Don't try and fight all 4 at once. Don't get Lu'Ah near the corpses of Holgeir or Fjori, as she will resurrect them. Don't forget Resist Frost, Slowing/Paralysis Potions and Healing Potions for this fight.
You can try to range her with a bow around the temple, but its not as easy as some other Crypt encounters to accomplish this.
She also has a Key that you need to loot from her body to be able to use the door to the front. It is conceivable that you could stealth into the treasure room and loot the Queen's sword needed for the quest, but you would then have to walk all the way back through to the front.
Once Lu'Ah is dead both Fjori and Holgeir die just like any other summoned creature dies once its summoner is killed. So easy way to win kill Lu'Ah as fast as possible. Depending on your level she can be killed with 1-2 shots with a bow if in stealth. Lu'Ah also has some dialogue as you enter the final chamber giving the player a few free hits without her defending or running.
The player can leave the Ansilvund Key on its pedestal and choose to pick all the locks up to Lu'Ah Al-Skaven and kill her. If they then backtrack to the Main Hall (the three-tiered crypt that had several 'Master' locks) and retrieve the key, the traps around the pedestal will trigger and the coffins will open. However, the Draugar will remain dead (the standing ones rag-dolling onto the floor), even though one can still hear Lu'Ah's voice crying out for vengeance.
Appearances
Edit