Arcane Enchanter
Talk

5
19,061pages on
this wiki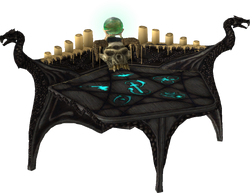 Arcane Enchanter
is one of the three
crafting stations
used in
The Elder Scrolls V: Skyrim
.
Enchanting
is one of the six skills for
the Mage
play style.
The Arcane Enchanter is a magical table that allows characters to harness the power of enchantment properties by breaking down pre-enchanted items. Disenchanted items are lost forever. Once learning an enchantment, it can be applied to other items through the use of Soul Gems. Items can only hold one enchantment, until a specific Enchanting perk is learned. However, since patch 1.04, the color of the enchanting table may drastically change to a bright blue. This has no known effect other than the texture change.
Locations
Edit
Note: this is not a complete list.
The Enchanter can be crafted for a homestead as part of The Elder Scrolls V: Hearthfire. It requires the following components:
The Elder Scrolls V: Skyrim Game Guide sometimes refers to the Arcane Enchanter as the Arcane Infuser.
The Enchanter is inscripted with all five symbols that fall under the mage's playstyle.
Between a row of candles sits a smaller version of a Troll Skull with horns. Over the Skull rests a green, smokey Crystal-ball.
While enchanting an item, it is possible to change the name of it. This can be done by pressing 'F' on a PC, by pressing 'Y' on the Xbox 360, or by pressing 'triangle' on Playstation 3.
You can enchant improved weapons, but you cannot improve enchanted weapons without the Arcane Blacksmith perk.
When you try to use the Enchanter you will see the back of your character. This can typically be fixed by sheathing and unsheathing your weapon/spell. (Very rare and unconfirmed)

 PS3 

  The table part of the Enchanter will glow a very bright blue. This can occur randomly with any Arcane Enchanter, but does not affect its use. To fix; save, restart game, reload save.
Appearances
Edit