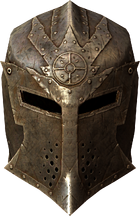 For other uses, see Armor.
Several new armor sets are introduced into The Elder Scrolls V: Dawnguard, not to mention several unique pieces in both light and heavy variants.
Armor sets
Main article: Armor Sets (Skyrim)
An armor set is defined as a complete set of armor that includes one matching armor piece for the head, chest, hands and feet. There are six different armor sets available, both in heavy and light variants.
Heavy Armor
Light Armor
Unique Armor
Clothing
See also
Ad blocker interference detected!
Wikia is a free-to-use site that makes money from advertising. We have a modified experience for viewers using ad blockers

Wikia is not accessible if you've made further modifications. Remove the custom ad blocker rule(s) and the page will load as expected.