Arvel the Swift
Talk

7
19,066pages on
this wiki
Arvel the Swift
Race
Dunmer
Gender
Male
Level
1
Class
Thief
Faction
Bandits
Rank
Citizen
Ref ID
00039655
Base ID
00039646

"Yes, the claw. I know how it works. The claw, the markings, the door in the Hall of Stories. I know how they all fit together!"
―Arvel the Swift
Arvel the Swift is a Dunmer thief, found trapped in a spider web at Bleak Falls Barrow. Arvel wears a full set of Hide Armor.
Interactions
Edit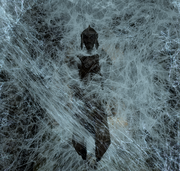 The Dragonborn finds Arvel trapped in a spider's web, and he asks to be freed. After killing the spider, the Dragonborn hacks away at the web constraining Arvel. A Flames spell can also be used to burn the webs and it will not harm Arvel. As soon as he is freed, he attempts to escape through the dungeon. The Dragonborn must then chase after Arvel, kill him, and retrieve the Golden Claw. If the Dragonborn chooses not to kill him, however, he is killed by the Draugr, becomes hostile or triggers a trap in the adjoining room.
Upon searching Arvel's corpse, Arvel's Journal can be found. This journal is useful in the quest The Golden Claw. The claw is required to progress further into the barrow.
Sometimes after killing the first few Draugr in the room with the spike wall trap, he may become hostile for no reason.
Appearances
Edit