Ashore in a Sea of Ghosts
Talk

1
19,079pages on
this wiki
Ashore in a Sea of Ghosts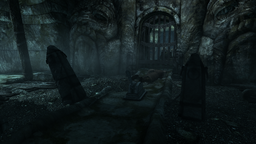 Walkthrough
Edit
Visit Winterhold and speak with Birna. Go through speech options and she will eventually talk about a bad deal and mentions Yngol Barrow and gives the option to buy the Coral Claw, which is needed to complete the quest. Upon arriving at the location, several non-hostile glowing blue balls of light surround the Dragonborn. Eventually, a Draugr is encountered. The quest culminates in a battle against Yngol, in spirit form. Upon defeating him, the Helm of Yngol, an ancient Nord Helmet, is earned.
If you come to the end of the dungeon and a Draugr Deathlord or Dragon Priest are sitting on the throne instead of the Yngol Shade, you will not be able to get out through the gate at the end of the fight forcing you to have to retrace your steps back to the beginning of the dungeon. This results in you not being able to complete the quest or receiving the Helm of Yngol. This appears to be the result of being sent to Yngol Barrow by the Jarl of Winterhold to retrieve the Helm of Winterhold.

If you are on the PC, before you enter the dungeon, you can fix this issue by using the console to type:

setstage Favor158 20

This will remove the Helm of Winterhold quest, allowing you to enter the dungeon to complete the Ashore in a Sea of Ghosts quest. This should remove the bug and then you can return to Jarl Korir to get the Helm of Winterhold quest at a later time.
Behind the scenes
Edit
Appearances
Edit
References
Edit