Auriel's Bow
Talk

7
19,069pages on
this wiki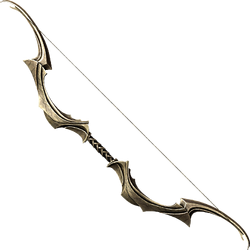 "Auriel's Bow appears as a modest Elven Longbow, but it is one of the mightiest weapons ever to exist in Tamriel's history. Allegedly created and used like its sister, Auriel's Shield, by the great Elvish demi-god, the Bow can turn any arrow into a missile of death and any wielder invulnerable to any lesser attacks. Without Auriel's power behind it, however, the bow uses its own store of energy for its power. Once exhausted of this energy, the bow will vanish and reappear wherever chance puts it. Its most recent appearances have been subject of gossip for hundred's of years."
History
The bow was said to have been carried into battle by Auri-El himself against the forces of Lorkhan during the Ehlnofey wars of the Dawn Era. When Trinimac defeated Lorkhan and tore out his heart, Auri-El fastened it to an arrow shot it long into the sea, where Red Mountain eventually formed. [1]
Auriel's Bow has changed hands several times over the years. The artifact was once found by the Eternal Champion in his quest to overthrow Jagar Tharn. It was later rewarded to the The Hero of Daggerfall by an unknown person after he was helped. Many years later the Nerevarine acquired the bow for Lady Therana, a mad Telvanni councilor. It then wound up in the Inner Sanctum of the Forgotten Vale, in the custody of two Snow Elves.
Appearances
Auriel's Bow appears in the following games:
References