The following people are located in Balmora.
Balmora Council Club
Edit
Eight Plates
Edit
Fighters Guild
Edit
Hlaalo Council Manor
Edit
Lucky Lockup
Edit
Mages Guild
Edit
Morag Tong Guild
Edit
The Razor Hole
Edit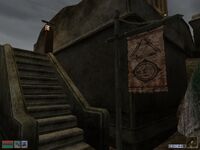 South Wall Cornerclub
Edit
Ad blocker interference detected!
Wikia is a free-to-use site that makes money from advertising. We have a modified experience for viewers using ad blockers

Wikia is not accessible if you've made further modifications. Remove the custom ad blocker rule(s) and the page will load as expected.