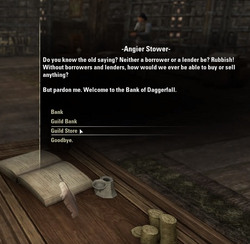 A Bank is a place where the Vestige can deposit and withdraw gold and items in The Elder Scrolls Online. The bank serves as a place of storage. Starting storage space can hold up to 60 items and can be upgraded by 10 by buying more bank space.
A Guild Bank and Guild Store are also forms of bank storage.
Upgrade costs
Edit
Total: 768,200
Locations
Edit
Aldmeri Dominion
Edit
Daggerfall Covenant
Edit
Ebonheart Pact
Edit
Appearances
Edit
Ad blocker interference detected!
Wikia is a free-to-use site that makes money from advertising. We have a modified experience for viewers using ad blockers

Wikia is not accessible if you've made further modifications. Remove the custom ad blocker rule(s) and the page will load as expected.