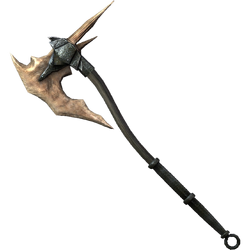 For other uses, see Battleaxes.
Battleaxes are large Two-Handed axes in The Elder Scrolls V: Skyrim. They deal more damage than One-Handed War Axes and Greatswords, but less than large Warhammers. Swinging slower than a greatsword, they swing faster than a warhammer.
A spell from the Conjuration school of magic summons an ethereal Battleaxe for use in combat.
Battleaxes
Appearances