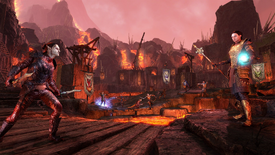 Battlegrounds are PvP locations in The Elder Scrolls Online: Morrowind. In a battleground, three teams consisting of four players are pitted against each other in different gamemodes. Currently, battlegrounds are only available to people that have purchased the Morrowind chapter.
Locations
Edit
Unreleased
Edit
A number of battlegrounds have been found in the files or previewed, but have not yet been publicly added to the game. They are as follows: (Codenamed battlegrounds without finished names are in italics)
Gamemodes
Edit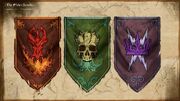 The names of the teams originate from The Elder Scrolls: Arena, in the early stages of development, cities in Tamriel had gladiatorial teams that were going to fight each other in a tournament setting. The teams were going to the cities of Helstrom (Pit Daemons), Torval (Firedrakes), and Narsis (Stormlords).[OOG 1]
Appearances
Edit
References
Notice
: The following are
out-of-game
references. They are not found in any in-game books, but can still be considered part of
The Elder Scrolls
lore and are included for completeness.