For other uses, see Courier.
The Black Horse Courier is a popular newspaper company based in the Imperial City. It is owned by three Khajiit brothers: Hassiri, Ra'jiradh and Urjabhi. The Empire funds the Courier, so the paper is always free.
Copies of their newspapers can be found in many different locations, such as talking to Vlanarus Kvinchal in the Imperial City Waterfront, or by taking a free copy from their office in the Market District.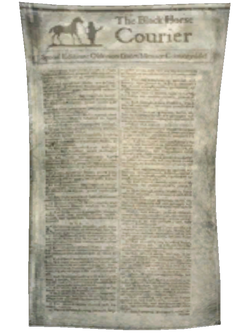 Employees
Edit
Appearances
Edit
Ad blocker interference detected!
Wikia is a free-to-use site that makes money from advertising. We have a modified experience for viewers using ad blockers

Wikia is not accessible if you've made further modifications. Remove the custom ad blocker rule(s) and the page will load as expected.