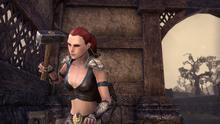 For other uses, see Smithing.
Blacksmithing is a Crafting skill in The Elder Scrolls Online. It allows the Vestige to use metal to create weapons and heavy armor.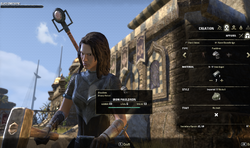 As with other crafting skills, it is necessary to extract raw materials into craftable ingredients before crafting with Blacksmithing. Metals are required and can be gathered throughout Tamriel in ore veins. Once the metal has been extracted into ingots, the player may craft weapons and armors.
To use the Blacksmithing skill, players must use a Blacksmithing Station.
Each craftable item has a minimum and maximum number of bars. For example, a cuirass may require a minimum of 7 iron bars, and take a maximum of 13. With each iron bar added to the 7, the armor value and level requirement increases.
It is also necessary for players to use crafting materials according to the style they wish to craft. By default they are only able to craft their own race's armor style. Further styles can be unlocked by reading racial style books. The necessary materials may be purchased from any crafting vendor.
There are many types of Weapons and Armors that players may create.
| Weapons | Armors |
| --- | --- |
| Axe | Cuirass |
| Hammer | Sabatons |
| Sword | Gauntlets |
| Battleaxe | Helm |
| Maul | Greaves |
| Greatsword | Pauldron |
| Dagger | Girdle |
There is a wide variety of materials that players may use in Blacksmithing. The higher level the material, the better the results. For example a steel sword will yield better results than an iron sword.
Materials can be found from Ore Veins, found in any region. As of Update 12, Ore Veins are found throughout Tamriel in the highest quality unlocked. For example, fully unlocked, Ore Veins will be of Rubedite Ore. Without any, they will be Iron Ore.
List of materials:
The style of the armor is determined using Style Materials.
Adamantite (Altmer style)
Argentum (Primal style)
Bone (Bosmer style)
Cassiterite (Ancient Orc style)
Copper (Barbaric style)
Corundum (Nord style)
Charcoal of Remorse (Xivkyn style)
Daedra Heart (Daedric style)
Dwemer Frame (Dwemer style)
Goldscale (Akaviri style)
Flint (Argonian style)
Laurel (Mercenary style)
Malachite (Glass style)
Manganese (Orc style)
Molybdenum (Breton style)
Moonstone (Khajiit style)
Nickel (Imperial style)
Obsidian (Dunmer style)
Palladium (Ancient Elf style)
Starmetal (Redguard style)
Traits may be added to weapons and armors using particular Gemstones after it has been researched.
Weapon & Armor Traits

| Weapon Trait | Gem Required | | Armor Trait | Gem Required |
| --- | --- | --- | --- | --- |
| Powered | Chrysolite | | Sturdy | Quartz |
| Charged | Amethyst | | Impenetrable | Diamond |
| Precise | Ruby | | Reinforced | Sardonyx |
| Infused | Jade | | Well-fitted | Almandine |
| Defending | Turquoise | | Training | Emerald |
| Training | Carnelian | | Infused | Bloodstone |
| Sharpened | Fire Opal | | Exploration | Garnet |
| Weighted | Citrine | | Divines | Sapphire |
Passive Skills
Edit
Each crafting skill yields passive skills related to the skill that can be levelled with the skill. For Blacksmithing, these skills are:
Metalworking: Allows the use of _____.

Rank 1: Iron Ingots (Unlocked at Blacksmithing Level 1)
Rank 2: Steel Ingots (Unlocked at Blacksmithing Level 5)
Rank 3: Orichalcum Ingots (Unlocked at Blacksmithing Level 10)
Rank 7: Galatite Ingot (Unlocked at Blacksmithing Level 30)
Rank 8: Moonstone Ingot (Unlocked at Blacksmithing Level 35)
Rank 9: Voidstone Ingot (Unlocked at Blacksmithing Level 40)
Rank 10: Rubedidte Ingot (Unlocked at Blacksmithing Level 50)
Appearances
Edit
Ad blocker interference detected!
Wikia is a free-to-use site that makes money from advertising. We have a modified experience for viewers using ad blockers

Wikia is not accessible if you've made further modifications. Remove the custom ad blocker rule(s) and the page will load as expected.