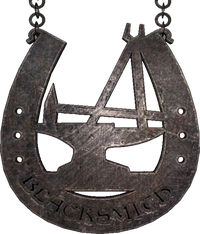 Blacksmiths can be found in most cities and towns in Skyrim. Blacksmiths serve as merchants that specialize in weapons and armor, including enchanted pieces. They also sell various smithing materials, such as ores, ingots, leather and leather strips.
Blacksmiths will only buy weapons, armor and smithing materials - unless the Merchant perk in the Speech skill tree is active. They typically carry more gold than most merchants, usually over 1000
even without any investment in the speech tree, making it ideal to sell all weaponry and armor to them first.
Between 8 AM and 8 PM, they can usually be found near the town or city's smithing stations, either standing in one place or using one of the stations.
Blacksmiths
Edit
The following is a list of blacksmiths and weapons/armor merchants.
† Only available after completing City Influence quests for Delvin Mallory.