Blizzard
Talk

4
19,055pages on
this wiki
Blizzard is a Master-level Destruction spell in The Elder Scrolls V: Skyrim that creates a swirling ice storm centered around the caster. It does 20 frost damage per second to everything within range of the storm, including enemies, followers, and even the caster. Additionally, the spell pulls in nearby objects like a whirlwind, which causes additional damage to anyone nearby.
Spell tome
Edit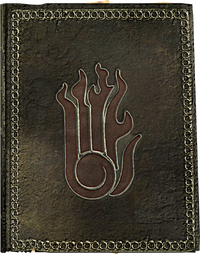 Attributes
Edit
Weight: 1
Value: 1350
See Spell Tome for a complete table of spell tomes, their descriptions, and their values.
Acquistion
Edit
Augmented Frost will increases the damage by 25% on the first point and 50% on the second point.
Deep Freeze will cause your foes to become paralyzed when their health is low.
Usefulness
Edit
Crowd control
Edit
It can be very effective in dealing with large groups of enemies because of its large area of affect and its high damage. However, it may be more effective to use the Fire Storm spell, as the Blizzard spell causes very low damage to the player as well as high damage to surrounding enemies. The spell creates a cyclone effect that pulls in any nearby objects and throws them around in a circle, which causes extra damage. This may be why the player takes damage from this spell; however, when cast outside where there are no nearby objects, it will still cause damage to the player.
Synergies
Edit
Weapons poisoned with Weakness to frost cause enemies to take additional damage from Blizzard. This may be especially effective when used on arrows or a Bound bow, since many more targets may be hit by the arrows before the spell's effects expire.
Counteracting the damage to self
Edit
Throwing up Wards may limit damage inflicted on oneself by this spell. Casting a Guardian Circle may also help restore some of the damage inflicted by it. Wearing apparel enchanted with Resist Frost helps avoid taking damage from Blizzard.
This section contains bugs related to Blizzard. Before adding a bug to this list, consider the following:
Confirm all bugs with other editors on the talk page before adding them below.
Always try reloading an old save first, before asking for assistance.
Don't discuss possible bug fixes or origins. Leave those and all other first-person-anecdotes on the talk page, not the article.
Always add

 360 

 ,

 PS3 

 , and

 PC 

  to clarify which system the bug appears on.
 PC 

  The player's magic resistance and cold resistance will reduce the total damage output of the spell. The real damage the blizzard spell deal can be checked while having blizzard active, then checking in the active effects section. A high cold resistance or Magic resistance dragonborn may find this spell dealing really low damage, down to 2 frost damage per second. Likewise, spells, enchantments and poisons that decrease the player's cold resistance or magic resistance, such as The Apprentice Stone, will highly increase the damage output of the spell.

 PS3 

  Blizzard may have no damage to self and enemies.
Appearances
Edit