Boethiah's Pillow Book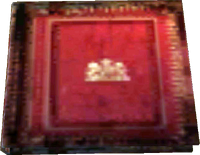 Title:
Boethiah's Pillow Book
Full Title:
Boethiah's Pillow Book
Author:
Anonymous
Morrowind
Weight
10.00
Value
0
FormID
bk_BoethiahPillowBook
Main article: Books (Morrowind)
The unique book is owned by Gandosa Arobar. Aengoth the Jeweler will ask the Nerevarine to steal it for him. It can be assumed that placing the book under one's pillow will give them dreams from Boethiah, or at least let Boethiah's voice be heard within the confines of one's head.
Related quests
Edit
No words can describe what you see. Or what you think you see.
Appearances
Edit