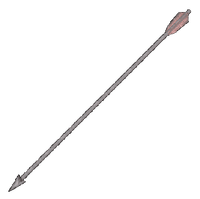 For other uses, see Bolts.
Bolts are a type of ammunition available in The Elder Scrolls III: Morrowind, used by crossbows. The DLC Area Effect Arrows adds several new enchanted bolts, which can only be purchased from Aradraen at her fletching shop in Vivec City.
Compared to other games
Edit
Bolts were not included in Oblivion and Skyrim, but returned in Dawnguard, Skyrims first DLC.
Bolts add about the same amount of damage as arrows.
Area Effect Arrows
Edit
Appearances
Edit
Ad blocker interference detected!
Wikia is a free-to-use site that makes money from advertising. We have a modified experience for viewers using ad blockers

Wikia is not accessible if you've made further modifications. Remove the custom ad blocker rule(s) and the page will load as expected.