Bonestrewn Crest
Talk

4
19,074pages on
this wiki
 Bonestrewn Crest
Map
Hold
Eastmarch
Location
Directly south of Windhelm
Type
Dragon Lair
Enemies
Dragon (Leveled)
Location ID
BonestrewnCrestExterior01 to 07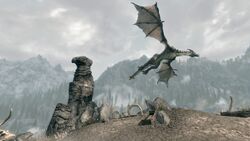 Bonestrewn Crest is a dragon lair and a Word Wall location near Witchmist Grove located atop the mountain directly south of Windhelm and Kynesgrove, as well as north-east of Eldergleam Sanctuary.
Description
Edit
A worn dirt path leads up the mountain to the top where ancient stone pillars rise around a large ancient dragon wall. The dragon's lair is strewn with mammoth bones and skulls, as well as several empty coffins. There is one chest to be looted. If visited prior to completion of Dragon Rising, several skeletons will be present.
Notable Loot
Edit
 PC 

 360 

 PS3 

If the dragon here has already been killed before getting the bounty quest, a dragon will appear for the quest. The player may not get another dragon soul.
After the dragon is killed for the first time, a miscellaneous quest will lead back to Esbern. This will appear even if Esbern was never talked to.
The dragon is already dead even though one has never been to Bonestrewn Crest.
The dragon does not attack.

 PC 

  (A possible fix) Wait a few times at one hour increments, and eventually the dragon should fix itself and attack.

Sometimes the dragon will be floating in the sky and won't attack, just hovers there with only its tail moving.
Sometimes the dragon will not respawn.
There are two dragons, of which one will not attack, and the other will, when killed, not give a dragon soul.

 360 

 If dragon was killed before getting the bounty quest, the dragon's soul may be absorbed when close to the dragon. This causes the dragon to become invincible and fly around as a skeleton, thus preventing the quest from being finished.

 360 

  (A possible fix). Do not use Dragonrend to force the skeletal dragon to land. Instead, wait for it to land on its own and then attack. This seems to work.
Appearances
Edit