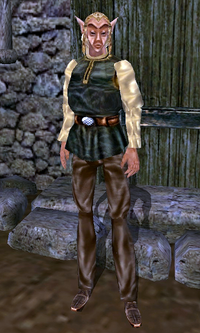 For other uses, see Bosmer.
The Bosmer or Wood Elves are the elven natives of Valenwood. Skilled in marksmanship and sneaking, Bosmer make adept thieves, assassins, and agents.
Character creation
Edit
Main article: Character Creation (Morrowind)
Attributes
Edit
Skill bonuses
Edit
Preferred play style
Edit
Wood Elves have the best skill increase in the Marksman skill. This said, the preferred weapon for this race is the Bow. When an enemy is seen, begin with a sneak attack from afar and then strike your enemy with arrows or bolts as it charges. You'll have to build up your melee combat abilities for when the enemies get too close, however, so try to invest skill points in other weapons. Beast Tongue allows you to thwart attacks by animals in the wild, and Resist Common Disease will actively prevent you from contracting any debilitating illnesses on your journeys.
Appearances
Edit
External links
Edit
Ad blocker interference detected!
Wikia is a free-to-use site that makes money from advertising. We have a modified experience for viewers using ad blockers

Wikia is not accessible if you've made further modifications. Remove the custom ad blocker rule(s) and the page will load as expected.