Bosmer (Online)
Talk

1
19,057pages on
this wiki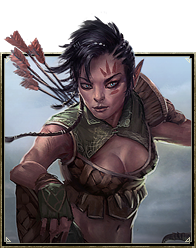 The Bosmer, or Wood Elves, are a race playable in the Elder Scrolls Online. They are part of the Aldmeri Dominion, along with Altmer and Khajiit.[1]
Official description
Edit
The Wood Elves, or Bosmer, are mischievous, curious and nimble. Because their homeland of Valenwood is often attacked by the Colovian Imperials, Wood Elves are expert at the art of defense. They are also gifted archers, perhaps the best in all of Tamriel. The capital of the Aldmeri Dominion, Elden Root, lies in the heart of their homeland. It has evolved into a center of political and cultural importance and is of vital strategic importance in the battle to control Tamriel.
Camoran dynasty

Edit
The Camoran dynasty ruled (or at least influenced) Valenwood ever since it was founded back in 1E 1. With the end of the second Empire the Camoran Dynasty is trying to return to its former glory. The politics of those in and around the Camoran dynasty continue to inform everything that happens in Valenwood. Camoran Aeradan is the current King of the Wood Elves.[2]
Cannibalism
Edit
For the Wood Elves, cannibalism is a matter of ritual significance, and typically quite private within a family or tight-knit group.[3]
Appearances
Edit
References
Edit
↑ http://www.gameinformer.com/games/the_elder_scrolls_online/b/pc/archive/2012/05/16/elder-scrolls-online-faction-profile-aldmeri-dominion.aspx
↑ December 20, 2012. The Elder Scrolls Online Ask Us Anything: Aldmeri Dominion (Part 2)
↑ December 10, 2012. The Elder Scrolls Online Ask Us Anything: Aldmeri Dominion (Part 1)