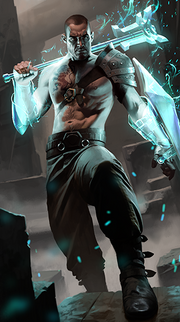 For other uses, see Breton.

"The men and women of High Rock are known for their clever spellcraft, which often lets them avoid harm. As a Breton, you will more quickly collect cards that can deflect damage."
―Character creation screen
Breton is a race appear in the free-to-play strategy card game The Elder Scrolls: Legends.[1]
Bretons have a focus on the Ward mechanic and gaining or losing wards.
This list is incomplete; help us expand it.
For more see Category:Legends: Bretons.
Appearances
Edit
References