Briar Heart
Talk

7
28,561pages on
this wiki
Briar Heart
Weight
0.5
Base Value:
20
Alchemical Effects
Restore Magicka
Fortify Block
5 pts for 0 sec
2% for 60 sec
Paralysis
Fortify Magicka
for 1 sec
4 pts for 60 sec
Source: Forsworn Briarheart
Form ID:

0003AD61
Main article: Ingredients (Skyrim)
Briar Heart is an ingredient in The Elder Scrolls V: Skyrim. It can be used to make potions at an alchemy lab as part of Alchemy.
Locations
Edit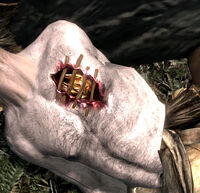 Main article: Potions (Skyrim)
* multiple effects
This section contains bugs related to Briar Heart. Before adding a bug to this list, consider the following:
Confirm all bugs with other editors on the talk page before adding them below.
Always try reloading an old save first, before asking for assistance.
Do not discuss possible bug fixes or origins. Leave those and all other first-person-anecdotes on the talk page, not the article.
Always add

 360 

 ,

 PS3 

 , or

 PC 

  to clarify which system the bug appears on.
Appearances
Edit