For other uses, see Brithaur.
Brithaur's House is a house in Crucible in The Elder Scrolls IV: Shivering Isles that belongs to Brithaur.
Sublocations
Edit
Brithaur's House Upstairs
Edit
The upper level of the house.
Ma'zaddha and Nelrene will meet near Brithaur's house.
Characters
Edit
Notable items
Edit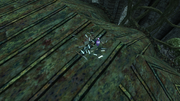 A Potion of Feather surrounded be dozens of feathers can be found on the roof.
Appearances
Edit