Candlelight (Skyrim)
Talk

0
28,187pages on
this wiki
For similar spells in other games, see Light.
Candlelight is a Novice-level Alteration spell. When cast, a hovering orb of light follows the caster, staying luminous for 60 seconds. It uses a small portion of the caster's magicka and need only be used once a minute to keep an area lit.
When dual cast, the duration of the spell increases to around two minutes and ten seconds. When used in conjunction with the Stability perk, the light orb lasts for about 3 minutes and 20 seconds.
Usefulness
Edit
Candlelight can be very effective in dark dungeons instead of using a torch, which occupies a hand; with Candlelight cast, shields, weapons, and other spells can be wielded instead.
Spell tome
Edit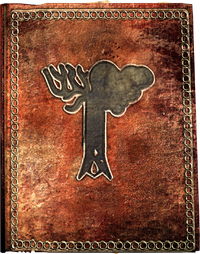 Attributes
Edit
Weight: 1
Value: 44
See Spell Tome for a complete table of spell tomes, their descriptions, and their values.
Acquisition
Edit
Associated Scroll
Edit
Drawbacks
Edit
There is no way to cancel the effect of the spell other than waiting until the spell duration is over.