Ad blocker interference detected!
Wikia is a free-to-use site that makes money from advertising. We have a modified experience for viewers using ad blockers

Wikia is not accessible if you've made further modifications. Remove the custom ad blocker rule(s) and the page will load as expected.
The Cavern of the Incarnate is a cave in The Elder Scrolls III: Morrowind. It is the location that the Nerevarine has to locate and travel to in the Third Trial, and obtain Azura's artifact, the Moon-and-Star. It is also the location where the prior incarnates are located. One of the aspects of the trial is to solve the riddle, which includes that the cavern must be touched by "Azura's Star" to open.
When attempting to enter the cavern at a time other than Dawn or Dusk, the following message is heard: The door is locked, and will not open. The Star is the key. Otherwise, the hero hears the following message: With the door now under Azura's Star, the door is opened, which occurs between 6 and 8 am, and 6 and 8 pm daily.
Former Incarnates
Edit
Ane Teria
Edit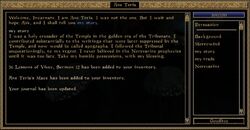 Ane Teria gives the following items:
Conoon Chodala
Edit
Conoon Chodala gives the following items: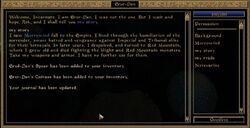 Erur-Dan gives the following items:
Hort Ledd
Edit
Hort Ledd gives the following items:
Sithis
Hort-Ledd's Robe:

Weight: 3.0
Value: 400
Turn undead 6 to 60 points for 30 seconds on Target
Shield 5 points for 30 seconds on Self
Charge: 150
Idrenie Nerothan
Edit
Idrenie Nerothan gives the following items: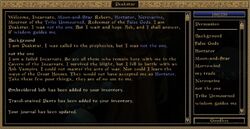 Peakstar gives the following items:
Embroidered Belt

Weight: 1.0
Value: 20
Cast When Used
Fortify Willpower 10 points for 30 seconds on Self
Charge: 75

Travel-stained Pants

Weight: 2.0
Value: 40
Cast When Used
Levitate 10 pts for 30 seconds on Self
Charge: 225
Appearances
Edit