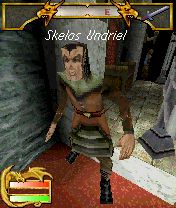 The following characters appear in The Elder Scrolls Travels: Shadowkey. The list is sorted by where each character first appears.
Azra's Crossing
Edit
Dragonstar
Edit
Delfran's Hideout
Edit
Broken Wing
Edit
Earthtear Caverns
Edit
Loth'Na Caverns
Edit
Raider's Nest
Edit
Twilight Temple
Edit
Crypt of Hearts
Edit
Ghast's Pass
Edit
Dragonfields
Edit
Stout's Trading Post
Edit
Lakvan's Stronghold
Edit
Ad blocker interference detected!
Wikia is a free-to-use site that makes money from advertising. We have a modified experience for viewers using ad blockers

Wikia is not accessible if you've made further modifications. Remove the custom ad blocker rule(s) and the page will load as expected.