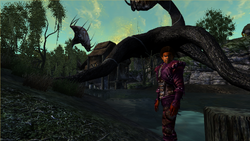 Non-player characters are any characters in the game world that are not controlled by the player. NPCs are controlled by Radiant AI, a complex system in which NPCs move about the world in a non-scripted, lifelike manner and perform daily tasks including, shopping or hunting for food, going to church, painting, or even going on a mission of assassination. An NPC can come in many shapes and sizes and be any playable race.  The term "NPC" refers to all humanoid characters, meaning all races.
Types of non-player characters
Edit
Details about non-player characters
Edit
Day–to–day schedules
Edit
Many of the NPCs within cities and towns often have a day to day schedule. An NPC may do a variety of different things during the day, including:
Eating food
Sleeping
Talking
Killing or fighting other NPCs
Adventuring to a certain area or areas
Staying inside their house when it rains
Change dialogue due to other recent events
When hovering the cursor over certain NPCs, a crown icon indicates that the character is an essential NPC, and cannot be killed. They can still be fought and knocked unconscious, but they will eventually rise again. This method can be used as a way of gaining experience, as the character will not remember the attack, and the player will not suffer any consequenses of it apart from either a prison sentence or a bounty.
When in combat with an NPC, they are able of chasing the player as they run through rooms, caves or wilderniss. They can flee from the player when they are about to be defeated, or if they have been demoralized.
List of all NPCs
Edit
The following are non-player characters that appear in The Elder Scrolls IV: Shivering Isles.
Argonians
Edit
Dark Seducers
Edit
| Name | Race | Gender | Location | Ref ID | Base ID | Image |
| --- | --- | --- | --- | --- | --- | --- |
| Autkendo Jansa | Dark Seducer | Female | New Sheoth | 0001A78F | 0001A78E | |
| Adeo | Dark Seducer | Female | Pinnacle Rock | 0001681D | 0001681B | |
| Dylora | Dark Seducer | Female | Pinnacle Rock | 00017D07 | 0001746E | |
| Grakendo Udico | Dark Seducer | Female | Passwall | 00017448 | 00017433 | |
| Grakedrig Ulfri | Dark Seducer | Female | Cylarne | 000131AF | 00012092 | |
| Nelrene | Dark Seducer | Female | Crucible | 00013BD4 | 00013BC7 | |
| Stela | Dark Seducer | Female | Cylarne | 00018F90 | 00018F8F | |
| Vika | Dark Seducer | Female | Cylarne | 00018DC0 | 00018DBF | |
Golden Saints
Edit
| Name | Race | Gender | Location | Ref ID | Base ID | Image |
| --- | --- | --- | --- | --- | --- | --- |
| Aurig Desha | Golden Saint | Female | Passwall | 00017442 | 00017439 | |
| Aurmazl Kaneh | Golden Saint | Female | Cylarne | 000120EE | 000120EC | |
| Aurmazl Zudeh | Golden Saint | Female | Bliss | 0001A791 | 0001A790 | |
| Chuna | Golden Saint | Female | Cylarne | 00018DC1 | 00018DBE | |
| Issmi | Golden Saint | Female | Brellach | 0001681A | 00016819 | |
| Mirel | Golden Saint | Male | Cylarne | 000120EF | 000120ED | |
| Staada | Golden Saint | Female | Brellach | 00016B8F | 00016B8E | |
Imperials
Edit
| Name | Race | Gender | Location | Ref ID | Base ID | Image |
| --- | --- | --- | --- | --- | --- | --- |
| Ahjazda | Khajiit | Female | Crucible | 00015866 | 000155A0 | |
| Atrabhi (Dementia) | Khajiit | Male | Split | 00017821 | 00015867 | |
| Atrabhi (Mania) | Khajiit | Female | Split | 0001781F | 0001207C | |
| Bhisha | Khajiit | Female | Crucible | 00071FC1 | 00071FBF | |
| J'zidzo (Dementia) | Khajiit | Male | Split | 00001783E | 00001783D | |
| J'zidzo (Mania) | Khajiit | Male | Split | 0001783F | 00012082 | |
| Kishashi | Khajiit | Female | Fellmoor | 00017840 | 00015590 | |
| Ma'zaddha | Khajiit | Female | Crucible | 0001586B | 000155A2 | |
| M'desi | Khajiit | Male | Hill of Suicides | 000823B6 | 000823BE | |
| Ranarr-Jo | Khajiit | Male | Fellmoor | 00017850 | 00015592 | |
| Ra'kheran | Khajiit | Male | The Howling Halls | 00016B76 | 00016B75 | |
| S'fara | Khajiit | Female | A Strange Door | 0001A118 | 0001A116 | |
| Name | Race | Gender | Location | Ref ID | Base ID | Image |
| --- | --- | --- | --- | --- | --- | --- |
| Kithlan | Redguard | Male | House Dementia | 000131C4 | 00012108 | |
| Limark | Redguard | Male | Hill of Suicides | 000823B7 | 000823B5 | |
| Orinthal | Redguard | Male | Bliss | 00013B7E | 00012084 | |
| Pyke | Redguard | Male | Hale | 00066ECF | 00066ECB | |
| Relan | Redguard | Male | Fellmoor | 0003BE7A | 00015598 | |
| Shelden | Redguard | Male | Passwall | 00013BB9 | 00011FA3 | |
General Humanoid NPCs
Edit
| Name | Race | Gender | Location | Ref ID | Base ID | Image |
| --- | --- | --- | --- | --- | --- | --- |
General Hostile Humanoid NPCs
Edit
| Name | Race | Gender | Location | Ref ID | Base ID | Image |
| --- | --- | --- | --- | --- | --- | --- |