Children
Talk

20
19,065pages on
this wiki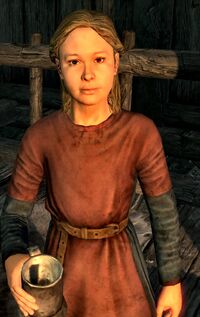 Children appear in The Elder Scrolls V: Skyrim[1]. All children are human (there are Nords, Imperials, Bretons and Redguards). Elven and "beastial" children do not appear in Skyrim.
Regardless of a child's race or economic status, all boys wear a collared sweater with brown trousers, and all girls wear a simple belted dress. However, the color of the sweater or dress varies from child to child.
Some children may want to play with the Dragonborn. Games include Hide & Seek or Tag. Some even ask for some gold (Svari).
Invincible
Much like in Fallout 3, children cannot be killed, injured, or knocked unconscious, nor can they be pickpocketed. Dragon Shouts also do not affect children no matter which shout is used. However they can still be hit and weapons skill can be increased from doing so.
Even though children cannot be harmed, attacking a child will incur assault charges in the same way as harming an adult. If a child sees the Dragonborn breaking the law, he or she will warn the nearest adult.
Notable children
Trivia
Sometimes when performing spells while in the presence of a male child, he will ask the Dragonborn to make him invisible. There is no way to make him invisible, but you can lie to him. He will then run around the town and try to scare people while being "invisible".
Some children can be given a coin. Sond and Bottar will reveal a map location if given a coin. Svari will also thank The Dragonborn greatly if the latter has donated to her.
Children in Skyrim tend to have similar inventories. Some items they tend to carry are: Quill, Charcoal, Roll of Paper, Broken Sword (Braith), Inkwell, Shoes, Kid's Clothes, Gold Coin, Iron Dagger (Males), Drum, Lute, Flute, Wooden Laddle, Various Ingots (Blacksmith Apprentices, Generally), Leather Strips, Apple, Bucket, Leather, Sweet Roll, Long Taffy Treat, Honeynut Treat, Boiled Cream Treat, and Empty Wine Bottles. There is most likely many others, these just appear to be the most common.
See also
Bugs
Some children may hire mercenaries or The Dark Brotherhood to kill the player, if they catch him/her committing a crime. This was intended to be done by adults only.
When items are dropped near children, they may tell the player that they dropped something and attempt to give it back. No items are added to the inventory, however.
Doing a charged Werewolf attack can sling back children like any other NPC, they will be unharmed however as they get up.
Sometimes when using a Frenzy spell near a child they will get the effect and a quite humorous scene follows as every guard in the city tries to kill the child eventually chasing them out of town.
References