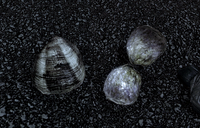 For other uses, see Clams.
Clams can be found in Skyrim, but tend to be in fewer places than Nordic Barnacles and are generally easy to miss. They can be found attached to rocks as well as in sunken ships and underwater structures.
They can be located in the northern parts of Skyrim, but are a rarity. Clams can only be opened and searched for clam meat.
Harvested clam meat cannot be cooked even though it is considered a raw food.
Locations
Edit
Appearances
Edit
Ad blocker interference detected!
Wikia is a free-to-use site that makes money from advertising. We have a modified experience for viewers using ad blockers

Wikia is not accessible if you've made further modifications. Remove the custom ad blocker rule(s) and the page will load as expected.