For classes in other games, see Classes.
For NPC only classes, see NPC Classes (Oblivion).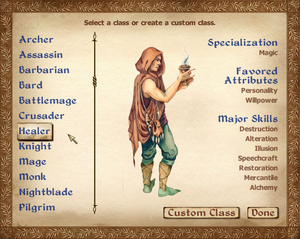 Classes are occupations, vocations, or jobs fulfilled by player characters and NPCs in The Elder Scrolls IV: Oblivion. Oblivion hosts 21 pre-made classes for players to choose from, each with its own skill set, governing attributes, and abilities. Classes specializing in stealth include Acrobat, Agent, and Thief. Magic-using classes include Mage, Sorcerer, and Witchhunter. Fighter classes include Knight, Barbarian, and Warrior. Some classes cross the traditional barriers of gameplay, sampling skills from each of the three archetypes. The Nightblade class, which uses swords, magic, and armor, illustrates this cross-class genre of character class. Customized classes can also be created.
Custom class
Custom classes can be created in Oblivion. After selecting all the appropriate skills, specializations, and attributes, players can give their newly created class a unique name.
Specialization
Players can select one specialization for the class -- Stealth, Magic, or Combat. Whichever class specialization is selected helps increase skills under that specialization quicker. For instance, choosing Magic causes skills such as Destruction or Alteration level faster.
Attributes
Main article: Attributes (Oblivion)
In addition to this, players select two governing Attributes. The character starts with a permanent +5 in those attributes. Attributes control the magnitude at which a skill can be used. For instance, Personality governs the skill, Illusion; having a higher Personality rate augments the effectiveness of Illusion spells when Personality is selected as a class-attribute. Luck tends to be a popular attribute, as it can only be leveled up by 1 point each level.
Skills
Main article: Skills (Oblivion)
Thirdly, seven unique skills can be selected. Skills chosen should reflect the type of character the player wants to play. Characters, for instance, with a specialization in Stealth would benefit more from choosing skills under that specialization, such as Sneak or Security. Skills chosen are listed as "Major Skills". These skills level up faster and contribute to when the character levels up.
See also