Clay
Weight:
1
Base Value:
1
Type:

Misc.

FormID: xx003043
Clay is a building material used in the construction and furnishing of homesteads in Hearthfire.
Locations
Edit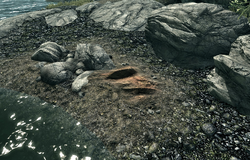 Thirty bricks of clay can be found inside the chest next to the
drafting table
on any purchased plot of land. This material is mined with a pickaxe from sources called "Clay Deposit" found throughout Skyrim. These sources can yield 4000 units each before depleting.
Homestead deposits
Edit
Other deposits
Edit
Clay is used in the construction of the following items:
Appearances
Edit