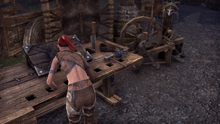 For other uses, see Clothing.
Clothing is one of the crafting skill trees available in The Elder Scrolls Online.
At the Clothing crafting table, you can choose to create light and medium armor.
Light Armor used the materials Jute, Flax, Cotton, Spidersilk, Ebonthread, Kreshweed, Ironthread, Silverweave, Void Cloth. Items that can be crafted:
Hats
Epaulets
Gloves
Robes
Sashes
Breeches
Shoes
Medium Armor used the materials Rawhide, Hide, Leather, Thick Leather, Fell Hide,Topgrain Hide, Iron Hide, Superb Hide, Shadowhide. Items that can be created:
Jacks
Guards
Helmets
Arm Cops
Boots
Bracers
Belts
You can can also add traits once it has been researched.
Passive AbilitiesEdit
Each rank of each skill has a level requirement and requires a skill point to activate. (feel free to flesh this out).
Tailoring: Allows the use of ___________
Keen Eye: Cloth: Fibrous plants in the world will be easier to see when you are __ meters closer.

Rank 1: 20 meters or closer (Unlocked at Clothing Level 2)
Rank 2: 30 meters or closer (Unlocked at Clothing Level 9)
Rank 3: 40 meters or closer (Unlocked at Clothing Level 30)

Outfitter Hireling: An outfitter will send you cloth or leather and possibly other items every day.

Rank 1: Hireling will send you cloth or leather and possibly other items every day (Unlocked at Clothing Level 3)
Rank 2: Hireling will send you will send you more cloth or leather and possibly better items every day (Unlocked at Clothing Level 12)
Rank 3: Hireling will send you even more cloth or leather and possibly even better items twice a day (Unlocked at Clothing Level 32)

Unraveling: Improves the extracting of Clothing ingredients.

Rank 1: Improves the chances of extracting (Unlocked at Clothing Level 4)
Rank 2: Greatly Improves the chances of extracting (Unlocked at Clothing Level 22)
Rank 3: Maximizes the chances of extracting (Unlocked at Clothing Level 32)

Stitching: Reduces research times by __% and allows the research of ___ items at once.

Rank 1: 5% and two items. (Unlocked at Clothing Level 8)
Rank 2: 10% and two items (Unlocked at Clothing Level 18)
Rank 3: 20% and three items (Unlocked at Clothing Level 28)

Tannin Expertise: Increases chances of improving items with tempers tannins (hemming/fine, embroidery/superior, elegant lining/epic, dreugh wax/legendary)

Rank 1: Increases the chances of improving items (Unlocked at Clothing Level 10)
Rank 2: Greatly increases the chances of improving items (Unlocked at Clothing Level 25)
Rank 3: More than doubles the chances to improve items (Unlocked at Tannin Expertise Rank 2)