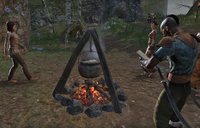 A Cooking Fire is a place in The Elder Scrolls Online where food can be made by combining provisions, which can be found all over Tamriel. The Vestige's cooking ability is affected by the Provisioning skill tree.
Locations
Edit
Alik'r Desert
Edit
Bangkorai
Edit
Bal Foyen
Edit
Shadowfen
Edit
This list is incomplete; help us expand it.
Appearances
Edit
References
Ad blocker interference detected!
Wikia is a free-to-use site that makes money from advertising. We have a modified experience for viewers using ad blockers

Wikia is not accessible if you've made further modifications. Remove the custom ad blocker rule(s) and the page will load as expected.