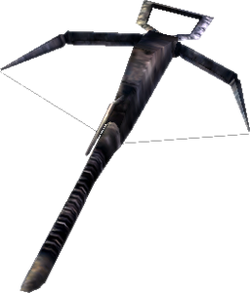 For other uses, see Crossbows.
Crossbows are a type of ranged weapon that appear and are available in The Elder Scrolls III: Morrowind, which fire bolts. Crossbows were not included in Oblivion and Skyrim, but returned in Dawnguard, Skyrim's first DLC.
Compared to Bows
Edit
Crossbows have much higher minimum damage than all bows, but lower maximum damage than higher-end bows.
Crossbows
Edit
Appearances
Edit
Ad blocker interference detected!
Wikia is a free-to-use site that makes money from advertising. We have a modified experience for viewers using ad blockers

Wikia is not accessible if you've made further modifications. Remove the custom ad blocker rule(s) and the page will load as expected.