The Daggerback is a creature that appears in The Elder Scrolls Online.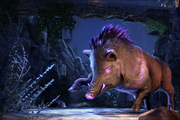 A Daggerback is a species of boar, native to Wrothgar and Craglorn. Daggerbacks have sets of quils along the ridges of their backs. Craglorn's Dagger backs feature purple quills and similar coloured glowing eyes, due to magic polluution.
Unlike there Craglorn variation, Wrothgar Daggerbacks will run away, upon being too near.
As their default level is 1, the Daggerback features no attack and can be slaughtered without worry.
Locations
Edit
Appearances
Edit