"The Elder Scrolls V: Skyrim, the 2011 Game of the Year, is the next chapter in the highly anticipated Elder Scrolls saga. Developed by Bethesda Game Studios, the 2011 Studio of the Year, that brought you Oblivion and Fallout 3. Skyrim reimagines and revolutionizes the open-world fantasy epic, bringing to life a complete virtual world open for you to explore any way you choose."
―www.elderscrolls.com[1]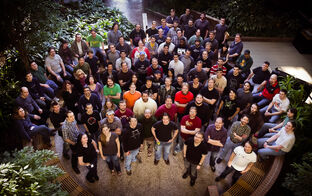 The development team of The Elder Scrolls V: Skyrim consisted of roughly a hundred people. With The Elder Scrolls IV: Oblivion having a development team of roughly seventy people, it's the largest development team for any The Elder Scrolls game. While being similar in size to Oblivion's setting, Cyrodiil, the team opted for a different approach to Skyrim. As said by Skyrim's Art Director, Matt Carofano:"In Skyrim we've come up with something we internally call 'epic reality.' And what that means to us is; dramatic views wherever you go."[2] According to Todd Howard, contrary to The Elder Scrolls III: Morrowind's setting; Morrowind, Skyrim shouldn't feel like an isolated, alien place.[3] There were, however, similarities between Morrowind and Skyrim. Much like the differences in treatment between two of the Great Houses of Morrowind; House Redoran and House Telvanni, this is also seen between the various Holds in Skyrim.
The music for Skyrim was composed by Jeremy Soule, who had composed the music for both Morrowind and Oblivion. Skyrim's main theme, Dragonborn, was recorded with a choir consisting of thirty men. To fit the Nordic atmosphere of Skyrim, Todd Howard had the idea that the music for Skyrim would be the Elder Scrolls theme, but sung by a barbarian choir. He had asked Emil Pagliarulo, a Senior Game Designer for Bethesda Softworks, the following: "Can you write a song that works in the Dragon language, that rhymes with the Elder Scrolls theme, when translated into English also makes sense and rhymes?"[4] According to Audio Director Mark Lampert, the main theme set the tone for the rest of the game.
While in earlier Bethesda games such as The Elder Scrolls: Arena, The Elder Scrolls II: Daggerfall, but also Oblivion the team had used generated landscape, this wasn't done in The Elder Scrolls V: Skyrim. The dungeons in Oblivion, for example, were all designed by one person. While Skyrim's dungeons were designed by a team of eight.
Image
Job
Name

Game Design

Game Director

Have an image of this developer?
Then please upload it!

Lead Programmer

Guy Carver

Lead Artist

Matthew Carofano

Lead Designer

Co-Lead Designer

Production Designer

Lead Producer

Audio Director

Senior Producer

Senior Producer

Producer

Producer

Kevin Kauffman

Producer

Nathan X. Mcdyer

Producer

Phil Nelson

Lead Systems Programmer

Brett Douville

Have an image of this developer?
Then please upload it!

Systems Programming

Ryan Ashford

Systems Programming

Shannon Bailey

Systems Programming

Joel Dinolt

Systems Programming

Mike Dulany

Have an image of this developer?
Then please upload it!

Systems Programming

Jason Hammett

Systems Programming

Mat Krohn

Have an image of this developer?
Then please upload it!

Systems Programming

Ryan Lea

Systems Programming

Mike Lipari

Systems Programming

Jeff Lundin

Have an image of this developer?
Then please upload it!

Systems Programming

Christopher Rodriguez

Systems Programming

Jean Simonet

Have an image of this developer?
Then please upload it!

Lead Graphics Programmer

Scott Franke

Graphics Programming

Jonathan Bilodeau

Have an image of this developer?
Then please upload it!

Graphics Programming

Paul Graber

Have an image of this developer?
Then please upload it!

Graphics Programming

Jeff Sheiman

Graphics Programming

Orin Tresnjak

Have an image of this developer?
Then please upload it!

Gameplay Programming

David Diangelo

Have an image of this developer?
Then please upload it!

Gameplay Programming

Joseph Diangelo

Gameplay Programming

Steve Meister

Gameplay Programming

Dan Teitel

Gameplay Programming

Craig Walton

Lead AI Programmer

Ahn Hopgood

AI Programming

Brian Robb

AI Programming

Jay Woodward

Lead Interface Programmer

Erik Deitrick

Interface Programing

Ricardo Gonzalez

Have an image of this developer?
Then please upload it!

Additional Programming

Markus Alind

Have an image of this developer?
Then please upload it!

Additional Programming

Magnus Auvinen

Additional Programming

Ken Cockerham

Have an image of this developer?
Then please upload it!

Additional Programming

Chris Doyle

Have an image of this developer?
Then please upload it!

Additional Programming

Chris Esko

Have an image of this developer?
Then please upload it!

Additional Programming

Jim Kjellin

Have an image of this developer?
Then please upload it!

Additional Programming

Andrew Meggs

Concept Art

Concept Art

Ray Lederer

World Art

Cory Edwards

World Art

Tony Greco

Have an image of this developer?
Then please upload it!

World Art

Daniel T. Lee

World Art

Nate Purkeypile

World Art

Rashad Redic

World Art

Ryan Sears

World Art

Clara Struthers

World Art

Rafael Vargas

World Art

Robert Wisnewski

Lead Environment Art

Noah Berry

Have an image of this developer?
Then please upload it!

Environment Art

Andy Barron

Environment Art

Ryan Salvatore

Environment Art

Megan Sawyer

Additional Environment Art

Gabrielle Adams

Have an image of this developer?
Then please upload it!

Additional Environment Art

Alex Schwartz-Rudd

Have an image of this developer?
Then please upload it!

Additional Environment Art

Christopher Zdana

Special Effects

Grant Struthers

Special Effects

Mark Teare

Additional Effects

Liz Rapp

Lead Animator

Josh Jones

Animation

Jeremy Bryant

Animation

Jangjoon Cha

Animation

Lianne Cruz

Animation

Gary Noonan

Animation

Juan Sanchez

Have an image of this developer?
Then please upload it!

Animation

Ricardo Vicens

Animation

Alex Utting

Additional Animation

Ray Arnett

Lead Character Artist

Christiane H. K. Meister

Character Art

Ben Carnow

Have an image of this developer?
Then please upload it!

Character Art

Charles Kim

Character Art

Jonah Lobe

Character Art

Dennis Mejillones

Character Art

Dane Olds

Character Art

Yan Qin

Additional Character Art

Liz Beetem

Additional Character Art

Hiu Lai Chong

Additional Character Art

Lucas Hardi

Have an image of this developer?
Then please upload it!

Additional Character Art

Massive Black

Interface Art

Natalia Smirnova

Have an image of this developer?
Then please upload it!

Additional Graphic Design

Istvan Pely

Senior Designer & Writer

Emil Pagliarulo

Quest Design & Writing

Brian Chapin

Quest Design & Writing

Jon Paul Duvall

Quest Design & Writing

Shane Liesegang

Quest Design & Writing

Alan Nanes

Have an image of this developer?
Then please upload it!

Quest Design & Writing

William Shen

Have an image of this developer?
Then please upload it!

Additional Quest Design & Writing

Matt Daniels

Have an image of this developer?
Then please upload it!

Additional Quest Design & Writing

Nate Ellis

Lead Level Designer

Jeff Browne

Level Design

Daryl Brigner

Level Design

Joel Burgess

Have an image of this developer?
Then please upload it!

Level Design

Steve Cornett

Have an image of this developer?
Then please upload it!

Level Design

Ryan Jenkins

Have an image of this developer?
Then please upload it!

Level Design

Andrew Langlois

Level Design

Justin Schram

Have an image of this developer?
Then please upload it!

Additional Audio

Dave Schreiber

Production Assistant

Emily Sears
References