Drafting Table
Talk

2
19,080pages on
this wiki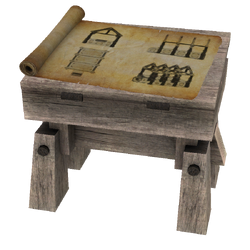 A Drafting Table is a crafting station in The Elder Scrolls V: Hearthfire.
The drafting table can be used to create plans for a homestead. These plans can then be realized by using a Carpenter's Workbench to create parts of the house.
Blueprints
Edit
Remodel House into Entryway
If you ask your follower (tested on Lydia) to interact with the Drafting table, she will stay at the table and not move unless you fast-travel to another location.
Appearances
Edit