Dragonhide
Talk

18
19,062pages on
this wiki
Dragonhide is a Master-level Alteration spell in The Elder Scrolls V: Skyrim. Casting the spell grants 80% physical damage reduction to the caster for 30 seconds. This is the equivalent of achieving a displayed armor rating of 567, which is the maximum possible reduction that can be achieved with regular armor.
This 80% reduction stacks with regular armor, but only if the armor is already equipped when you cast it.
Stability - Increases the duration to 45 seconds.
Dual Casting - Curiously, being a two-handed spell, Dragonhide can be dual cast by holding down both casting buttons, the animation is no different, but it uses twice as much magicka and increases the duration to 99 seconds when teamed with Stability.
Necromage - Vampirism, combined with the Necromage perk from the Restoration skill tree, Stability, and Dual Casting increases the duration to around two and a half minutes.
Spell tome
Edit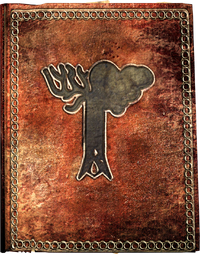 Attributes
Edit
Weight: 1
Value: 1389
See Spell Tome for a complete table of spell tomes, their descriptions, and their values.
Acquisition
Edit
Casting this spell before a difficult fight can have a great effect on survivability, if the Dragonborn doesn't have good armor equipped. 80% damage reduction is the cap, and can't be exceeded by any armor. The steep cost of Magicka can be offset by using potions, obtainable en masse using Alchemy, or by magicka reduction clothing/jewelry using Enchanting, or both.
Dragonhide is one of the two Master Spells that can actually be dual wielding to increase the duration, the other being Guardian Circle  in Restoration school.