Dragonstone
Weight:
25
Base Value:
0
Type: Quest Item
FormID:

000DF202
The Dragonstone is a quest item and artifact in The Elder Scrolls V: Skyrim.
On the front is a map of Skyrim depicting the location of the Dragon Burial mounds. On the back is a passage written in Dragon Alphabet.
Acquisition
Edit
The stone can be retrieved from the corpse of the guardian of Bleak Falls Barrow who will be a Draugr Overlord. It is located in the Inner Sanctum which is same room as the Word Wall.
Related quests
Edit
Bleak Falls Barrow - Return the Dragon Stone to Farengar Secret-Fire. He will only accept the Dragonstone after the Dragon Rising quest has begun. If the stone has been obtained before Bleak Falls Barrow has started, then it can be turned over to him immediately.
Translation
Edit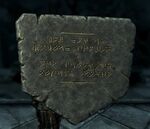 Dragon Script
Transliteration
Translation



















HET NOK UN
MAHLaaN DROGGE
ERei SULeyK SE
ALDUIN VOKRii
HERE LIE OUR
FALLEN LORDS
UNTIL POWER OF
ALDUIN REVIVES
Appearances
Edit