Dunbarrow Cove (Location)
Talk

0
19,064pages on
this wiki
Dunbarrow Cove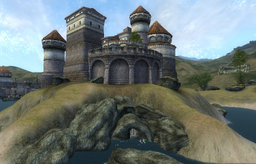 Map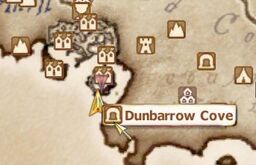 For other uses, see Dunbarrow Cove.
Dunbarrow Cove is a cave located behind and under Castle Anvil (as pictured). The first section of the cove is called Smuggler's Cave and contains some crates, chests and barrels and can be accessed in the vanilla game.
However, the lower passage leads to Dunbarrow Cove itself, which is only available with The Thieves Den plug-in, while the upper passage* leads to a secret section of Castle Anvil and ends up in the Umbranox private bedchambers.
*Can only be opened with the "Smuggler's Key" which is found in the chest at the foot of the bed inside the Captain's Quarters after having been upgraded.
Dunbarrow Cove houses the infamous Black Flag and becomes a "house" of the player once it has been cleared of Red Sabre Skeletons (see Dunbarrow Cove (Quest)). It can then be upgraded with Character and a proper Captain's Quarters by talking to Dahlia Rackham at the Sea Tub Clarabella.