The East Empire Trading Company, also known as the East Empire Trading Co, or the EETC,[1] was a powerful, multi-national, "monopolistic mercantilist"[2] trading company in Tamriel, that is controlled by the Empire. It is also a joinable faction in Morrowind expansion The Elder Scrolls III: Bloodmoon, and is also encountered in The Elder Scrolls V: Skyrim.
Locations
Edit
The East Empire trading company has holdings in many eastern territories of the Cyrodilic Empire, such as Morrowind, Skyrim and Solstheim. The company owns the East Empire Company Warehouse just outside of Solitude and offices in Windhelm. It has a monopoly over trade in the Eastern Provinces, this is primarily due to the fact that the company is chartered by the Emperor of Tamriel.
The East Empire Company also controls the trade of kwama eggs, Telvanni Bug Musk, mazte, sujamma and other local products of Morrowind as well as imports, such as flin and Cyrodiilic Brandy.[2] The high price of flin imports may be attributed to the Company's complete control on prices, due to lack of competition. In Morrowind, they have made the trade of Raw Ebony and Dwemer artifacts illegal.[3]
Influences
Edit
Many senior ranking officers in the company are seen as corrupt and are resented by some people in the provinces, who see the businessmen as Imperial colonials robbing the local resources. The East Empire Company provides employment and financial stability to the Empire. House Hlaalu and the East Empire Company, who owns the Caldera Mining Company, in the town of Caldera, compete over ebony business.[4]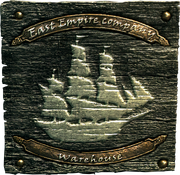 The East Empire Company has offices in Ebonheart, Caldera, Fort Frostmoth and the new ebony mining colony in Raven Rock on Solstheim in Morrowind. In Skyrim, the Company has offices in Windhelm and a large warehouse and offices under Solitude. It is headquartered in the Imperial City in Cyrodiil and has large warehouses in the Waterfront District of the city.
Every company chapter is headed by a Factor who directs and controls the affairs of the company in his region. As a high-ranking official of the company, they have the right to construct an estate on the company premises, such as the large Factor Estate adjacent to the company's ebony mine inside of Raven Rock.
Joining the East Empire Company
Edit
During the events of The Elder Scrolls III: Bloodmoon, it is possible for the Nerevarine to join the company by interacting with Carnius Magius and rise in their ranks to complete quests.
| Rank | Required Attributes | Required Skills |
| --- | --- | --- |
| 0. Underling | Personality 30, Willpower 30 | — |
| 1. Clerk | Personality 30, Willpower 30 | One skill at 10 |
| 2. Steward | Personality 30, Willpower 30 | One skill at 20 |
| 3. Fixer | Personality 30, Willpower 30 | One skill at 30, two at 5 |
| 4. Agent | Personality 30, Willpower 30 | One skill at 40, two at 10 |
| 5. Negotiator | Personality 31, Willpower 31 | One skill at 50 two at 15 |
| 6. Officer | Personality 32, Willpower 32 | One skill at 60, two at 20 |
| 7. Deputy | Personality 33, Willpower 33 | One skill at 70, two at 25 |
| 8. Factor | Personality 35, Willpower 35 | One skill at 90, two at 35 |
This quest splits into 2 questlines after the quest "Making a Choice". Quests for Falco are marked labeled (Falco) and quests for Carnius are labeled (Carnius)
The Elder Scrolls III: Morrowind
Edit
Morrowind
Edit
The Elder Scrolls III: Bloodmoon
Edit
The Elder Scrolls V: Dragonborn
Edit
Solstheim
Edit
The Elder Scrolls V: Skyrim
Edit
Appearances
Edit
References