For other uses, see Easter Eggs.
The following are Easter Eggs that appear in An Elder Scrolls Legend: Battlespire.
The Mock Turtle
Edit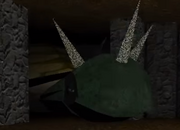 After crossing the Star Galley door leading to the second level, walk a bit out of the main path, turn about 120º to the left and walk off the bridge below. Climb up and you will find a hidden teleport that will take you to a square room in the North East of the level. Inside it you will find a gigant turtle. You can climb it by going left of him, jumping up and climbing over him.
If you talk to the turtle you will get a secret password eltrut kcom. Use it in the North Western corner of the room to get access to a chest containing an item of Precipitous Travel.